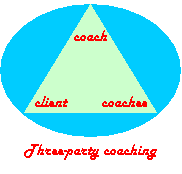 Well coached individuals produce better results for their employer. For example, in the past we have developed individuals to take on new management responsibilities created by strategic initiatives (such as sustainability adopted by their employers.

We prefer to enter into a coaching relationship with the coachee (person being coached), client (their employer), and our coach. This ensures ownership of coaching by the three stakeholders in the process:
the client has an interest in aligning employee's skills with organisation needs,
the coachee has an interest in developing in accordance with their personal ambition, and
the coach has an interest in satisfying the client and coachee.
Coachee
Your experience will be unique. We realise that each person is an individual and develop a tailored approach to helping your to:
know themselves better,
live more consciously, and
contribute more richly.
Through one-on-one coaching, participants slow down so they can learn, reflect deeply and grow. This is a long-term highly personal approach with rigorous debate over. They gain awareness and notice the effects of their words and actions. More specifically, the coaching process helps participants to:
integrate personal development with organisational needs,
adopt new responsibilities,
reduce destructive behaviour,
improve retention,
enhance teamwork,
align individuals to collective goals,
facilitate succession, and
support organisational change.
Clients
While coaching does take place without coachees' employers involvement, all parties benefit when employees contribute to the coaching process. Clients contribute in the following ways:
stating the organisation's objectives,
expressing coachees' shorfalls in terms of organisation's objectives,
entering into a learning agreement with coachee, and
assuring top level support for the coaching process.
Coachees and clients benefit in the following ways:
confirm individual's abilities.
identify individual's problems,
build on attributes to turn problems into opportunities.
Coach
We are able to coach effectively due to our diverse background. For example, Dr Lionel Boxer has been coaching individuals since the mid 1970s as follows:
as an army leader in Canada, the United Kingdom and Australia since 1974,
as a management consultant in Canada, Australasia and South East Asia since 1981, and
as a tertiary educator of individuals and classes since 1986.
Lionel's PhD research led to the development of a socio-psychological model that harnesses ordinary conversation for understanding how chief executives dealt with sustainability issues. This model - used in our coaching - has since been applied to understand and enhance the behaviour of a wide range of leaders.

Prior to entering academia in the mid 1980s to complete an MBA and PhD, Lionel has worked with a wide range of organisations to develop strategy, policy and work processes. In doing this he has worked with all levels in all sorts of organisations. His work leads to knowledge transfer and personal development. He "sniffs out" hidden truths, is curious and enjoys "turning over rocks".

Coaching Process in Brief
Lionel learns about coachees through discourse analysis of interviews conducted with coachees and those in their sphere of operation. From this, we establish a personal program with perhaps three measurable goals that are most appropriate to the situation, client's need and coachee's aspiration.
We work with you to develop a plan, agree to proceed, and work through that plan. In developing the plan, we are concerned whether or not there is appropriate chemistry between stakeholders. In cases where this is not evident we prefer not to proceed.
On approval, we begin an iterative course of action with the coachee. Throughout the process transcripts of discussions are maintained and we reflect on the progression that take place. While the coach uncovers and guides, the coachee reflects and experiments. At various stages initial interviews are repeated to determine if others notice the advancement and whether or not they view it as such.