Dress Etiquette Primer - (if all else fails, read Emily Post)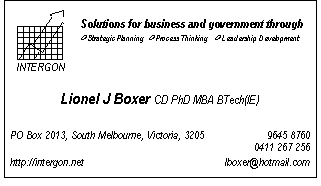 A few years ago, it was acceptable for professionals to spend their workdays dressed rather casually or in badly tailored suits, but these freedoms have been as temporary as the "new economy" that leading business schools around the world insisted was upon us. More recently, proper suits have returned to the corporate world and those who are unaware of the rules governing appropriate dress are at a disadvantage. Certainly, anyone who has been in the workforce for less than ten years is unlikely to have developed an appropriate wardrobe. (see AFR article and our wardrobe guide)
Details of what is appropriate and when are clearly laid out in Emily Post's Chapter 36, The Clothes of a Gentleman. This chapter also explains other "orders of dress" that should be worn at certain events and not at others. (This book was written in 1922 at a time when women were not generally professionals or businesspeople; these days the message applies equally to women). A more expedient approach is to watch and emulate your boss and other superiors up the line (if there is a variation prefer to follow those who tend to be decision makers regarding your career).
In brief, a professional or businessperson would be best dressed as follows:
Dark coloured suit
Well tailored suit that has no extreme features
Plain (or simple pattered) shirt
Tie that matches suit and shirt
Socks should be black
One lapel pin to represent your employer or a respectable group that your employer is in synch with
Some grooming issues to consider:
Do not wear the same suit every day
Avoid sitting in a car with your suit jacket on
Hang your suit after every wear - use a trouser press
Press your suit when required
Dry clean your suit and tie when required
Wash your shirt well and iron it
Comb your hair
Remove any non permanent facial hair
Avoid heavy metal nose rings, ear rings, bolts and other hardware
Limit hair colouring to natural tones
Remove old or stained clothes from your work wardrobe
The good news is that after work we are all able to let ourselves go through a metamorphosis if necessary. Peel off your facade of respectability and, if you need to, feel free to replace any facial hardware.

There may well be a determined movement of willful ignorance and anarchy to further some ideological ends. There are well reported examples of intelligent people, who have previously shown that they know better, apparently flaunting social disgraces and refusing to show appropriate deference. You could ignore this advise and do otherwise, but that is not what the Australian Financial Review suggests...
---
Goodbye casual Friday, hello city suit with attitude
Author: Annabel Day
Date: 06/08/2004
Words: 911
Source: AFR, Page: 28
Casual wear is associated with the dotcom bust, which means serious suits are in again, Annabel Day writes. It's Friday, and if you're not in a suit you run the risk of being as out of date as a dotcommer.
For aspirational young executives, the last day of the working week still means no tie, but dressing down in jeans and a black skivvy is out.
Companies are running "dress-for-success" seminars and introducing stringent guidelines on what staff can wear. Even internet and technology firms are quietly buttoning down collars and adjusting ties.
For a few years during the tech boom, mens' clothing store Anthony Squires Fine Quality Clothes had to switch its focus from suits to casual wear.
But now, "since the collapse of IT, when consumers were in casual only, they're back into suiting," says the store's Odette Haroutonian.
Customers who have not worn a suit in years are now coming in and buying two or three suits at a time. With the backlash, even casual clothes are becoming more formal, she says.
Companies are still having the "casual Friday, but instead of wearing . . . say, cords or really casual-cut trousers [people are] wearing a light-coloured suit with no tie".
One investment banker who used to work for one of the big four banks, says: "When I turned up in 2001 you wore whatever you wanted [but now] it has definitely turned back towards office attire.
"I think the view was and I agree it's just a productivity issue. If you rock up in jeans, you're relaxed and you take it easy."
Commonwealth Bank chief executive David Murray created waves earlier this year when it was reported he didn't go in for casual dressing at work. The bank is believed to have instructed staff to dress more formally, but a bank spokesman declined to confirm this.
Advertising man John Singleton also made headlines in 2002 when he sent a memo to the staff of Singleton, Ogilvy & Mather that read: "Those who are dressed like shit today should go home and come back dressed appropriately."
A company spokeswoman says the company's dress policy has always been formal and this has not changed in recent times, although it would be temporarily relaxed on "Jeans for Genes Day".
Five years ago at Yahoo! "it was definitely sneakers and jeans", says senior producer Rachel Watt.
Now the percentage of staff wearing sneakers and jeans is a lot smaller. "Because the internet is more mainstream, you find people in suits much more."
But Watt believes while the IT world has straightened out, other sectors have relaxed more. "People wear chinos more than suits," she says.
Yahoo!'s Nina Vanneck, who was working in business development at News Corporation's News Online in London at the height of the dotcom boom, says "it was trainers and denim skirts, full-on dotcom get-up.
"Then [came] the redundancies and sites closed, and by 2001 we were back in suits and very schmick."
Michael Page International's Asia-Pacific managing director, Chris Adams, says the dotcom boom brought with it "quite a cultural shift in terms of work attire".
Dressing casually "went with dotcom but so many [of those companies] failed that the dress sense [became] almost synonymous with failure . . . so people have smartened up and got a bit more serious about it all."
An example, he says, is the merger and acquisitions teams in the investment banks, who a few years ago "were going out and dressing similarly [to their clients] . . . that has gone back the other way."
But some employees have been slow to catch up.
At accounting firm Pitcher Partners, managers have had to talk to employees about strappy tops and short skirts, says the company's human resources director, Elizabeth Nunez.
"Our average age is about 28, so they are Generation X and Y, and very much focused on work-life balance, so a casual approach is often what they prefer.
"Where I used to work [at Pacific Dunlop] we decided to trial casual, but it was very difficult . . . to define what is . . . 'business casual'. We struggled with that."
Employees ended up wearing jeans or sneakers, "which we didn't want, even if they were clean and trendy. For gentlemen we [had] expected a polo shirt and nice pants."
At Pitcher Partners, she says, "business casual is something we wouldn't do."
About two weeks ago, the firm ran a how-to-dress seminar, which it does "every couple of years". It has also produced a booklet containing dress and grooming guidelines.
"You'd think nobody would want to wear green trousers and a red jacket, but you'd be surprised," says Nunez.
June Dally-Watkins career success programs general manager Sally Marzola says there are now "too many choices" for employees when it comes to deciding what to wear to work, so people need some direction.
June Dally-Watkins, which ran the Pitcher Partners seminar, began offering training courses on corporate dress six months ago.
About 10 to 15 companies have signed up so far and there are another four booked in for seminars over the next few weeks, says Marzola.
But Count Wealth Accountants and Lend Lease are two companies that have taken a middle route. In response to employee feedback, they decided to allow staff to dress more casually, but they have guidelines to ensure dress stays semi-formal.
---
General rules
get a good tailor
listen to your tailor
natural fabrics
match leather shoes, belt, watch band, etc
avoid fashion in suits
follow fashion in shirts
do not impulse buy
think of where you plan to be in five years
hand trousers by cuffs
store clothes in cloth bags - not plastic
Daytime
Five Suits made of durable cloth:
navy blue
charcole
lighter blue
navy pinstripe
grey pinstripe
Ten shirts
five white
three blue varying shades
two other colour
Formal Evening
Dinner Jacket
single button notch lapel or shawl
prefer not double brested
no cuffs on trousers
formal white shirt
black bow tie and cumberbun
pump shoes
If you are travelling or receive a late invitation a dark suit can be worn with a white shirt and black bowtie.

Most people do not required tails these days

Weekend
earthy coloured tweed jacket
corduroy jacket
blue blazer
knitted T shirts
gabardine trousers
corduroy trousers
flannel trousers
jeans
chinos
shoes to suit occasion (ie boots, runners, loafers)
Packing for travelling
dark suit
minimise what you carry
create variation by altering trousers, shirts, vests and ties
prevent creasing by using casual and under clothes as pads
hang immediately on arrival
take old clothes and throw them out instead of laundering
Shoes
always clean and polish them
work: brown or black toe caps or broagues
formal evening: black pumps
casual: to suit activity
Back to top