Bagpiper for visiting royalty, nobility, diplomats and politicians
---
We can introduce you to Highland Supplies, stockists of Scottish Bagpipes, Accessories and Highland Dress in Australia and also suppliers to retail bagpipes and highland supply outlets World-wide. They offer our members discounts of about 10%.
They offer a wide range of products including new, innovative and exclusive products to cater for pipe bands, pipers and highland dancers.
We are an experienced and friendly group, able to provide expert advice from our members who all have considerable piping and drumming experience with Pipes and Drums around the world. Several of us have performed at world class piping events around the world such as the Edinburgh Military Tattoo in Scotland, Sydney and Moscow. We are all available for hiring scottish bagpipers and drummers.
We are always experimenting with new technologies such as Ross bags, McCallum pipe chanters, Omega reeds, and some local manufacturers of bagpipes.
We are expanding our repertoire from Gordon Highlander and other traditional tunes, by introducing new tunes as well as those from different streams of bagpiping music. We anticipate competing in upcoming competitions. RMC
Many societies claim to have originated bagpipes. I am the honorary piper for the Hellenic (or Greek) RSL in Melbourne; they tell me Greeks invented bagpipes. Others say they originated in ancient Egypt. Throughout Celtic Europe there are national variations of bag pipes. Scottish Highlanders developed the great highland bagpipe, which is the most common instrument of its kind today. This "standard" bagpipe has one 'chanter', three 'drones',and an air bag. It is on the chanter that the melody is played. The range is three octaves from bass drone, to two tennor drones, to the chanter, which plays the third octave. Many pipers never play bagpipes properly. To achieve a good musical sound a bagpiper combines coordinates hearing, timing, arm pressure, steady flow airflow, memory, and body posture (while still and marching). Some genres of bagpipe music, are celtic bagpipe, Irish bagpipe, Scottish bagpipe, and military bagpipe. Bagpipes provide suitable music at weddings, parades, funerals, and other public and private events. This can be by one piper or a complete pipes and drums (the correct term for a bagpipe band is pipes and drums, I am told because Queen Victoria said, "the pipers should always lead"). Popular bagpiper songs include Danny Boy, Going Home, Scotland the Brave, and Greenhills.
---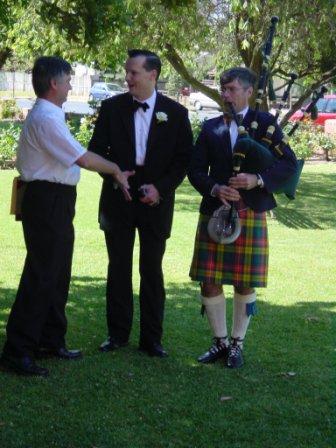 Weddings
There is no standard way to use a piper in a wedding ceremony; it is up to you and please feel welcome to discuss this with me.
Some ideas in a Church (or civil ceremony):
Special events: Christmas, Birthday, Childrens, Rugby, Long Way to the Top (if you must have it) ...
---
Bagpipes provide appropriate music for weddings, funerals and anything within Caledonian communities and throughout wider society.
Since at least the mid-1800s there has been a Caledonian component to Melbourne society and wider Victoria. Throughout this ethnic community were people who played and appreciated the great highland bagpipe. In 1898, there was sufficient influence in this community to successfully petition the formation of the The Victorian Scottish Regiment (VSR), which a year later raised the VSR Pipes and Drums. The government and military encourage culture and music. In 1960 the VSR was absorbed into the Royal Victoria Regiment, with the RVR Pipes and Drums. Also see RVRPD @ myspace.
A significant number of bagpipe enthusiasts led to the formation of the Victorian Highland Bagpipe Association, which has nurtured the development of pipers and drummers and encouraged the formation of many Pipes and Drums (Ps&Ds) marching bands.
These days there are fewer people learning to play and continuing with bagpipes. For those with the interest there is a terrific opportunity as a bagpiper. So, if you are interested, please ask about learning to play bagpipes.
---
Bagpipes for Funerals
A bagpiper can play during a funeral at various stages. During this personal time, we always work with you, the cleric leading the ceremony, and funeral directors. Some suggestions for bagpipes during funerals include: